Shirts to shelter
236 Kleinbild-Dias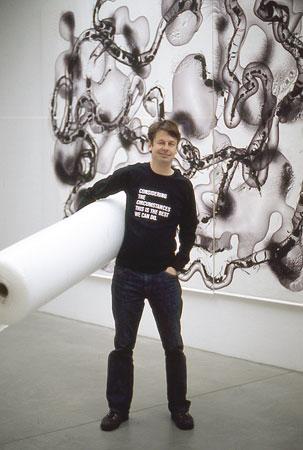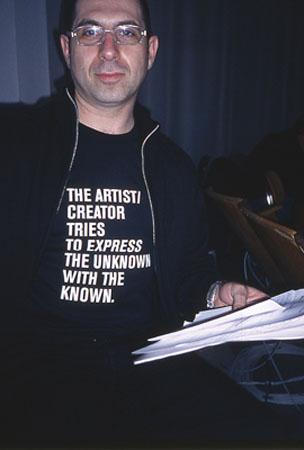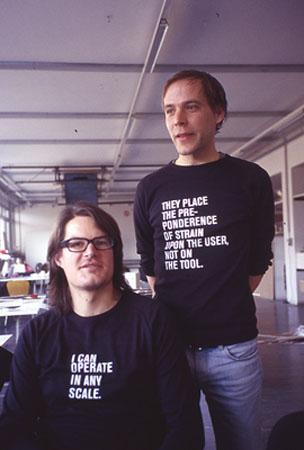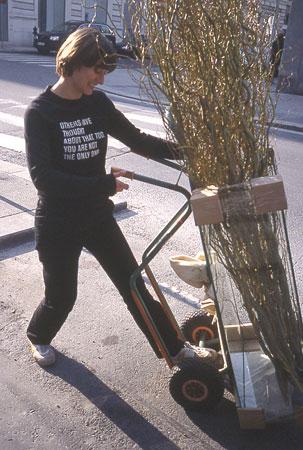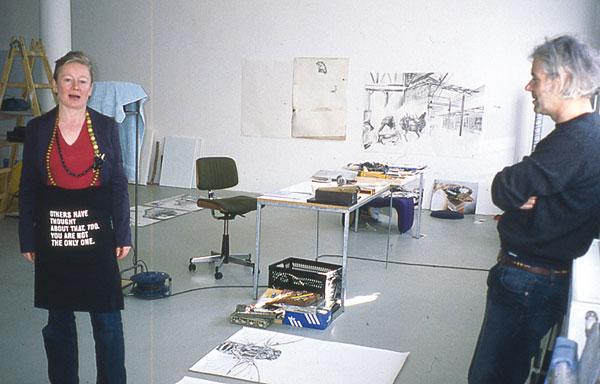 Shirts to shelter
Für sein Projekt Shirts to Shelter extrahiert Klos Textteile aus Kieslers theoretischen Schriften (z.B. aus
dem "Manifeste du Corréalisme" von 1939-49, oder dem Text "Towards the Endless Sculpture" von
1959) und überführt diese in die Gegenwart. Logos und Botschaften über T-Shirts zu verbreiten, stellt
eine längst etablierte Methode der Werbeindustrie, aber auch der individuellen Selbstinszenierung und
Identitätsbeschreibung dar. Matthias Klos übernimmt diese Displayfunktion und bedruckt schwarze TShirts
mit zehn ausgewählten Aussagen von Friedrich Kiesler, die sich als pathetisch romantische, wie
auch als überraschend zeitgemäße Statements in den Diskurs über aktuelle künstlerische Befindlichkeiten
und Intentionen einschreiben lassen.Für Shirts to Shelter werden Künstler und Architekten eingeladen, sich jeweils eines dieser Statements auszuwählen und dieses während ihrer Arbeit zu "tragen". Die Fotodokumentationen von "künstlerischen Alltäglichkeiten" - die auch Kiesler in seinen zahlreichenschriftlichen Überlegungen zu ergründen versuchte - wurden in der Ausstellung projektiv wieder(ge)geben.

Shirts to shelter
Text: Monika Pessler
For his project Shirts to Shelter Matthias Klos extracts texts from Kiesler's theoretical writings (e.g.
"Manifeste du Corréalisme" from 1939-49, or "Towards the Endless Sculpture" from 1959) and transfers
them into the present. Spreading logos and messages through t-shirts is a well established methode
both for advertising industry aswell as for individual self-dramatization and identity characterization.
Matthias Klos adopts this display function and prints black t-shirts with ten selected propositions from
Friedrich Kiesler, which can be entered as pathetic romantic but also surprisingly contemporary statements
into the discourse of current artistic sensitivities and intentions.
For Shirts to Shelter architects an artist are invited to chose one of these statments and "wear" it
while athey work. The foto documentationes of "artistic everydaynesses" - which also Kiesler tried to fathom
in his numerous written reflections - are projected in the exibition.
Teilnehmer:
Una Abraham
Iris Andraschek
Ulrike Arnold
be a good girl
Urs Bette
Gerhard Binder
Georg Driendl
Peter Zoderer,
Anne Catherine Fleith,
Mario Paintner,
Michael Obrist,
Richard Scheich
Barbara Feller
Wolfgang Fiel
Vadim Fishkin
Ernst J. Fuchs
Johannes Geier
Andreas Geis
Gerda Maria Gerner
Marie-Therese Harnoncourt
Tom Hindelang
Niels Jonkhans
Kari Jormakka
Susanne Kappeler-Niederwieser
Peter Kogler
Ilse König
Cornelia Krafft
Andreas Kristof
Herbert Lachmayer
Christian Lastufka
Liane Lefaivre
Axel Linemayr
Hubert Lobnig
Pia Mattersberger
Herr Meir (Fratelli il gelato)
Mitarbeiter der Metallwerkstatt
(Universität fu_r angewandte Kunst)
Sonja Mu_ller
Miriam Peter
Paul Petritsch
Lukas Pusch
Hani Rashid
RepaCopy
Michaela Ruttmann
Peter Sandbichler
Peter Sapp
Lukas Schaller
Irene Schwarz
Stefanie Seibold
Nicole Six
Valentina Sonzogni
Angelo Stagno
Rupert Steiner
Cai von Stietencron
Andrea van der Straeten
Peter Strasser
Studierende der Universität fu_r
angewandte Kunst Wien
Jan Tabor
Leo Totter
Christiane Wanits
Rudolf F. Weber